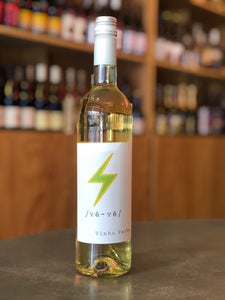 Grape varieties: Loureiro, Arinto and Trajadura
Light medium-bodied, dry. Lemon/lime, flint, and melon on the nose & palate. Finishes with white grapefruit, herb, and a slight fizzy prickle. If you like Sauvignon Blanc, try this 12% ABV Vinho Verde. Pair with raw fish, fried fish, and mayo-based salads. 
👁 light and green
👃🏾Melon, green apple, cantaloupe, lemon
👅 Tart lemon and lime top notes layered over not-too-sweet honeysuckle and mango, with a kiss of effervescence; sour and tangy
WINEMAKER: Fernando Moura and Pedro Campos
REGION: Vinho Verde
GRAPE VARIETY: loureiro, Arinto and Trajadura
SOIL: granitic
AGE OF VINES: 15 years (average age) PRODUCTION 500 cases
Farming is fully sustainable. The estate was recently certified for 'Integrated Production' which refers to a sustainable farming system that places an emphasis on involving the entire vineyard as an ecosystem and the preservation and improvement of soil fertility, as well as a diversified environment. The grapes are harvested by hand and sorted in the field before being carefully transported to the winery. After a pre-fermentation maceration,thegrapesarepressed, followed by alcoholic fermentation atacontrolledtemperaturebetween 16oc and 18oc in stainless steel. Afterfermentation,thewinespends 3 months on the fine lees with occasional batonnage. It is then fined with Bentonite (vegan) and lightly filtered before bottling.