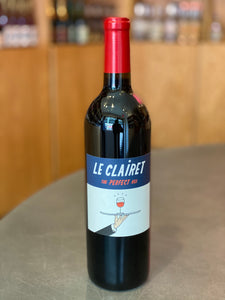 Producer: Broc Cellars
Category: Wine - Still - Red
Grapes: Cabernet Sauvignon and Mourvèdre
Region: California, United States
Subregion: Solano County
Appellation: Solano County Green Valley
Features: Organic
ABOUT THE PRODUCER
Broc Cellars was nothing more than an idea not that long ago, about making wines that were "site specific". Where the wines true character came from using only sustainably, organically, or biodynamically grown grapes from areas that most would consider marginal climates. Believing that vineyards develop 'true' character and complexity when they have to struggle to survive.This can come from many different aspects: poor nutrient and water holding capacity, steep slopes, cool temperatures, or from old vines that are dry farmed. In the cellar we try to continue this practice using minimal intervention, in an effort to let the grapes speak for themselves.

We are a 'low wattage' winery in the sense that we have very little modern equipment. Grapes are pitchforked whole-cluster into the fermenters, fermentation is allowed to happen spontaneously, all wines are basket pressed, with little/no sulphur used in our wines until bottling. True asphalt winemaking, in an urban winery.
In 2013, Broc made 6,000 cases that included 15 varieties.