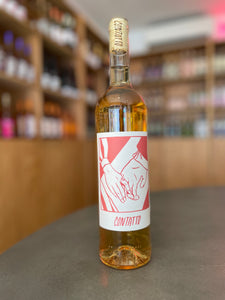 Producer: Casal de Ventozela — Contatto
Category: Wine - Still - White
Grape: Arinto
Geography: Vinho Verde, Portugal
Appellation: Vinho Verde
Features: Sustainable, Orange wine
Hand picked, de-stemmed, fermentation in 5000L tanks, on the skins, for about 2 weeks. Left to settle for another 2 weeks then pressed into tank for 3 months on lees, with occasional battonage. Lightly fined and filtered. Minimal SO2.



Casal de Ventozela consists of 45 ha of sustainably farmed vineyards in the heart of the Vinho Verde region. The vines are located in 2 sub-Vale do Ave and Vale do Covado. The estate is a family run business, with a strong focus on the environment and a genuine passion for wine and nature. Ventozela has a noble history dating back to 1874. A century later, it was acquired by the current director of the company, Jose Ferrera Cortinhas, who was responsible for resurrecting the estate following the April 25 revolution in 1974. The winery first started selling its grapes and in 2008, its first wines were bottled.