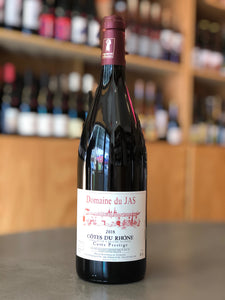 Country: France
Grapes: 60% Grenache and 40% Syrah
Domaine du Jas has been a family run operation since 1874 and has been committed to organic agriculture, and more recently biodynamic practices, to showcase the terroir of the Côtes du Rhône.

The 'Cuvée Prestige' is "calling-card" for the Domaine as they believe it perfectly represents their vineyards and their classic style. The blend is 60% Grenache and 40% Syrah given 30 days of maceration before being pressed and aged for 10 months in tank.
This is such a great value for a classic, full-bodied Côtes du Rhône with gentle tannins.

👁 dark red

👃🏾 ripe red fruit and peppery spices
👅 full-bodied with gentle tannins