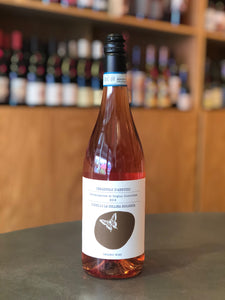 Italy / 100% Montepulciano
Francesco and Michela Cirelli have been making wine together since 2008, having purchased Agricola Cirelli back in 2003. On their 22 hectare certified organic farm, 8 km from the Adriatic Sea, they have vineyards, olive trees, garlic, spelt, wheat, barley, figs and geese. Their Cerasuolo (Italian for cherry-like, and used to describe Rosato wines) is made from 100% Montepulciano grapes grown on calcareous clay soils, and aged three months in stainless steel before bottling.
Cirelli is a fuller-bodied rosato ideal for fatty treats.
It's the perfect rosato for red wine lovers. 
👁 clean & clear vibrant pink
👃🏾 wild raspberries and flowers, dried herbs, and a hint of earth
👅 juicy and velvety, with pretty alpine spice and crunchy fruit.