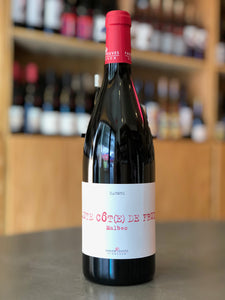 Producer: Fabien Jouves
Grape: Malbec
Region: Southwest France, France
Appellation: Cahors
Alcohol by volume: 13.0%
Region: Cahors/France
Notes
An entirely approachable expression of natural wine from southwest France.

No additives whatsoever during the winemaking practice and impeccable farming in the vineyard (certified biodynamic practicing).  
👁 Dark, inky

👃🏾 blackberries, cocoa, tobacco, plum jam and sweet spices
👅 Easy going, zippy acidity and refreshingly low alcohol


ABOUT THE PRODUCER
Fabien Jouves is a fifth generation winemaker located in the southwest of France in the village of Trepoux-Rassiel, about 15 minutes away from the town of Cahors on a high hill. In 2006, he took over his family's 44 acre estate and converted it to organic and biodynamic farming. In this region, Malbec (Côt) is the king of grapes and Jouves aims to reveal many different expressions of Malbec when he selects his parcels. The entire vinification process occurs naturally, without any additives. The wines are then aged until maturity in concrete tanks, barrels or large wooden vats (foudres), depending on the wine's personality.