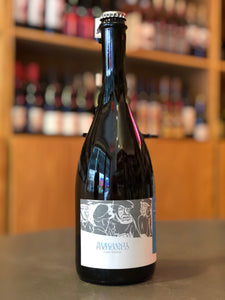 A pleasant and refreshing easy drinking sparkling rose.  
 👁 light pink
👃🏾hints of strawberry and bread crust
👅 light, dry sparkling rose
It was born in memory of the meeting places in the village circles of Gianfranco Bergianti. The grapes come from vineyards cultivated on silty soil and bred with the least human intervention. After the manual harvest of the grapes, fermentation occurs spontaneously in cement tanks, with second fermentation in the bottle. No clarification or filtration and negligible addition of sulfur dioxide before bottling. It ages for two years on the lees. Perfranco is a fresh and tense wine, pleasant and refreshing, with hints of wild strawberries and bread crust.