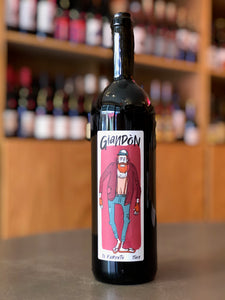 Producer: Azienda Agricola Il Farneto
Category: Wine - Still - Red
Grapes: Marzemino, Malbo Gentile, and Lambrusco Grasparossa
Region: Emilia-Romagna, Italy
Notes
Il Farneto Giando Rosso is a red natural wine made from Malbo Gentile, Lambrusco, and Marzemino organic and biodynamic grapes grown in Emilia-Romagna, Italy. Il Farneto is a tiny biodynamic estate of only 8 hectares located in Emilia-Romagna focusing on local varietals Spergola, for white wines, and Marzemino, for red wines.

In the hills above Modena and Reggio Emilia (Emilia Romagna) along the Secchia river is the project of Marco Bertoni, "Il Farneto". A highland surrounded by badlands, a maze of canyons running on steep clay slopes. In the hopes to showcase a link between quality and care for the land and agriculture, Marco returned to establish his ideas in an area where industrialization dominated during the 1970s and 80s, kidnapping a whole generation of farmers. The vines (Spergola, Marzemino and some Sauvignon Blanc and Chardonnay) were planted on 6 Hectares beginning in the 1990s; when the wine landscape was predominately big-tank fermentation Lambrusco, wrought with residual sugar and little character. Marco began experimenting with Spergola in different expressions and found that with the proper farming and a return to traditional methods of refermentation his wines presented the taste that satisfied his philosophies. With a focus on growing the production Marco recently introduced a new winemaker, Tommaso Turci, with a background over 10 years in natural wines around Italy. The wines showed Marco's devotion to farming and Tommaso suggested he coupled it with a sense of "riding the funny side of the bubbles" having an eye on both the contemporary world and the traditions of the past, which led to a label restyling that will be out soon.

The farm is ran through the biodynamic principles since 2003. The soil: clay, providing a unique, rich, and multi-faceted expression for these sparkling wines. The autoctone Spergola really makes the best out of it, keeping the acidity high even in the warmest vintages. The wines are all fermented with native yeasts and for the frizzante and spumante wines; a bit of the fresh juice from the same pressing is added to the wine to kickstart the second fermentation before bottling.

ABOUT THE PRODUCER
Azienda Agricola Il Farneto is a small 8 hectare (19.77 acre) winery located between the hills Scandiano and Canossa in Castellarano in Western Emilia-Romagna. It was founded in the mid-90s by Marco Bertoni who dreamed of making natural wines that reflected their terroirs. His winemaker Flavio Restani crafts lovely wines using ancient techniques that take into account the long-term health of the soils.

Certified Biodynamic, everything is done by hand and with the utmost respect for Nature. The rows here are densely planted to 4000 vines/hectare and are on average 15 years old, all planted to sandy clay soils. While they do use large French barrels that can hold up to 500 liters, these are all old and used, just to really soften the wines a tad.

The range of wines is named after a local river in a valley known for its geological character as well as its wilderness, the Rio Rocca. All fermentation is done with wild yeast, and sulfur use is minimal to non-existent. Despite this, there is a wild freshness to the wines that is really lovely. When tasting these wines, your mind and soul go directly to the deepest heart of Italy.