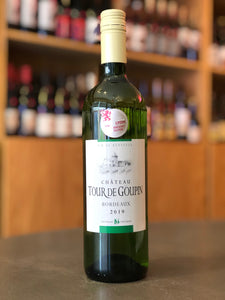 Looking for a crisp Sauvignon Blanc from France? Try this one from Bordeaux, the birthplace of Sauvignon Blanc.
Made from organically grown grapes, Chateau Tour de Goupin has a small amount of Semillion and Muscadelle for added complexity.
Drink this with seafood or white meats for a great pairing.
👁 golden
👃🏾floral nose, honeysuckle, zingy citrus tropical fruit and pear 
👅 medium-low acidity and a crisp mouthfeel w/ a light herbal finish.