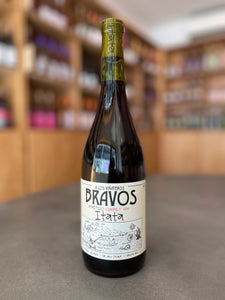 Producer: A Los Viñateros Bravos
Category: Wine - Still - Red
Grape: Cinsault
Region: Sur, Chile
Subregion: Itata Valley
Appellation: Valle del Itata
Features: Organic, Biodynamic, Sustainable

Tasting Notes
Cold climate, volcanic soils, and 60-year-old vines apparently go a long way with Cinsault This Cinsault is fresh and vibrant with an abundance of red flower, spice and red cassis fruit flavors with excellent concentration, light, dusty tannins and a refreshing finish. A real treat from a terroir-obsessed grower and winemaker.
The Granítico Cinsault from A Los Viñateros Bravos is dry-farmed in granite soils and hand-harvested. The wine is fermented with native yeasts in concrete, settles naturally and has a small addition of sulfur prior to bottling. 
About the Producer
Leonardo Erazo created "A Los Vinateros Bravos" winery in the heart of the Itata region (south of Chile).

The vines of Itata thrive in a steep hills landscape without irrigation.
Bush vines are verry old in this region, and finding 100 years old vines is common here.

The volcanic and granitic soil provide an extraordinary environment for root growth resulting in very healthy vineyards.

Leonardo doesn't interfere with the terroir to bring a strong sense of place into the bottle. Winemaking is simple, using only native yeast and cement tank for fermentation and aging.

Authentic wine, full of life, vibrancy, tension, and freshness.