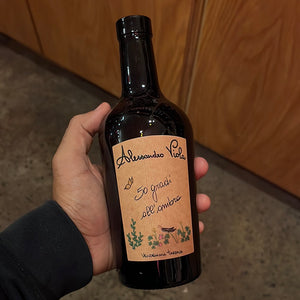 Appellation: Terre Siciliane IGT
Year: 2018
Grape: Grillo 100%
Area: Sicily
Notes
Alessandro Viola's 2017 50 Gradi all'Ombra is made of 100% Grillo, from late-harvested vines planted on clayey soil at 220 metres altitude. After a manual harvest at the end of September, the grapes were destemmed and pressed into stainless steel tanks. Fermentation took place with indigenous yeasts, without additions or temperature control. Afterwards, the wine was aged for twelve months in stainless steel. It was then bottled unfiltered and unfined, with 35mg/l of sulphites added at bottling.


Alessandro Viola's 2017 50 Gradi all'Ombra has a deep golden color with a luxurious and deep nose, filled with aromas of dried fruit, roasted peach, honey and Mediterranean scrub. On the palate it's full-bodied, nectar-like and richly sweet, with lively acidity that keeps it exciting and notes of raisins, dried apricots, ginger and herbs. Pairs perfectly with chocolate and caramel desserts.
About the Producer
Alessandro Viola winery is a small of 7 hectares of vineyard planted with grapes Grillo, Nero d'Avola, Nerello Mascalese and Catarratto located in Pietra district Rinosa located in Alcamo, the rest on Mount Bonifitato , mountain overlooking the city of Alcamo. Alexander, winemaker with national and European experience, care all stages, from the agricultural management of the vineyard to the wine-making operations of the grapes being himself a degree in viticulture and oenology. The company philosophy is very simple, build wine using only grapes ingredient , this isn't due to purely ethical reasons but for a conviction gained over the years that realize the pure wine is not only possible but that the result is better. The same approach in agriculture, or make independent the land from fertilizers and herbicides relying on the natural fertility of the soil capable of renewal on the condition that the man does not disturb the balance. "In wine there is a perfect chemical balance, only nature can go that far, who We are we to do better than nature? ' Alessandro Viola->