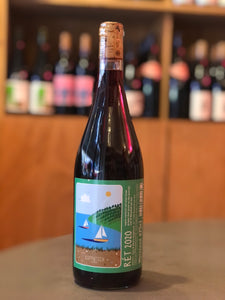 Producer: Alexander Koppitsch
Category: Wine - Still - Red
Varietals: St. Laurent, Zweigelt
Geography: Burgenland, Austria
Farming: Organic/Biodynamic, Unfiltered/Unfined, Low Added Sulfites

A juicy red from Burgenland, Austria--one of the country's great red wine growing regions. This blend is woodsy, and full of wild berry fruit. Grapes are hand harvested and fermented on the skins for about 10 days without temperature control. The grapes are then pressed and the juice goes in stainless steel tanks and acacia barrels for 14 months of elevage on the gross lees. The skins remain in contact with the juice for about 4 hours after which time the bunches are direct pressed, and fermentation lasts about 7 days. The wine is bottled unfined, unfiltered and with a small addition of sulfur. 
About the Producer
Alexander and Maria Koppitsch began making wine in Burgenland in 2011. They took over their parents 5.5 hectare winery and moved from selling their grapes into making their own wine. The vineyards are in the Neusiedl am See, a small village situated at the shores of the Neusidl Lake and a the eastern end of the Leitha Mountains which feature soft, rolling hills of mostly limestone soil. Like his father and grandfather before him, Alex does not believe in introducing any additives into the grapes or the wine. They use Rudolf Steiner's biodynamic principles to cultivate their grapes, and pride themselves on performing every aspect of the vineyard management and the winemaking by hand, on a very small scale. They make two distinct lines of wine, the Authentisch wines, which are more forthright and easy to drink, and receive a light filtering and a small addition of sulfur, as well as the more complex wines in the Unfiltered line, which take longer to ferment and have zero addition of sulfur.