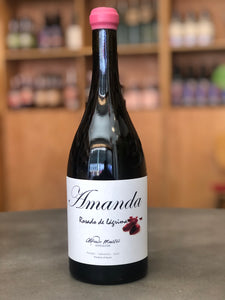 Distributor: José Pastor Selections
Producer: Alfredo Maestro
Category: Wine - Still - Rosé
Grape: Garnacha
Region: Castilla y León, Spain
Appellation: Vino de la Tierra de Castilla y León
ABOUT THE PRODUCER
The affable iconoclast Alfredo Maestro started making wine in the late 1990's when he planted his first vineyard, Almate, near his hometown in the Ribera del Duero. From the beginning, he set out to farm his vineyard organically. In the cellar though, Alfredo was teaching himself enology from a book, using every winemaking trick to make a "correct" Ribera del Duero: yeasts, acid, enzymes, tannins, color-enhancers, etc. Finally, in the early 2000's Alfredo had a revelation. He started questioning as to why, as an organic farmer, was he using chemicals to make the finished wine. He began eliminating exogenous products and, in 2003, began making wine without any additives, including sulfur. Over the past few years, he has been searching out abandoned or neglected vineyards around the Ribera del Duero and Madrid to convert to organic farming. Gradually, Alfredo has increased production, and now has 9ha and two small bodegas. He has emerged as one of the most lauded and dynamic natural winemakers in all of Spain. His wines are rich, pure, bright, and show everything there is to like about the Duero, minus the fake oak-addled spoof tactics that have dominated the wine styles in the region for years.