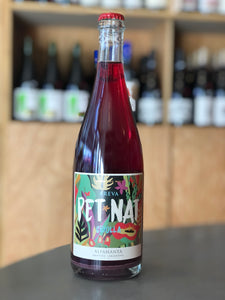 Producer: Alpamanta
Grape: Criolla Grande
Geography: Mendoza, Argentina
Appellation: Mendoza
Alcohol by volume: 12.5%
Features: Organic, Biodynamic, Pétillant naturel
Wine Notes: Our Pet Nat presents a cherry color, with a very unusual intense pink. The nose is intense and explosive, and you can feel some notes of fresh red fruits, such as cherries, plums, currants, blackberries, and raspberries. On the mid palate it has a sweet entrance, with the effervescence of the bubbles and a refreshing finish.
Alpamanta Description
In 2005 three close friends, Andrej Razumovsky from Austria and his cousin André Hoffmann from Switzerland, joined with Jeremie Delecourt from France to establish a boutique winery in Mendoza Argentina. Andrej and Andre noble family Sayn Wittgenstain, who owned vineyards in Moldavia and Jeremie's family are producers of rosé wine in the Cotes de Provence region and own the vineyard Chateaux de la Crois Bontar. Due to a combination of this rich heritage as well as a passion for the world of wine, our project came to life.