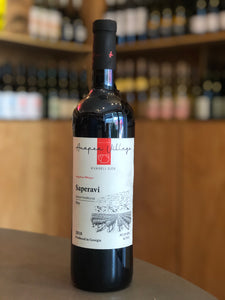 Producer: Anapea Village
Grape: Saperavi
Geography: Kakheti, Georgia
Features: Organic
ANAPEA produces wine with traditional kvevri technology from seven Georgian grape varieties (Saperavi, Rkatsiteli, Kakhuri Mtsvane (Kakhetian Green), Khikhvi, Rkatsiteli Vardisperi (Pink Rkatsiteli) and Kakhetian Mtsvivana) in Sagarejo and Kvareli. Aside from these core varieties, there is a vineyard of 32 varieties for producing small amount of wine. Each of them originates exclusively from Eastern Georgia (Kakheti and Hereti regions).
Vineyard is maintained and wine is produced only with traditional, eco-approach; harvest is wined in kvevri and aged in kvevri. Our philosophy is that restoring the positive and forgotten past of winemaking traditions of the first winemakers, as well as perfect Georgian viticulture, since this is the the only way to bring back the wine, as well wineconsumers.