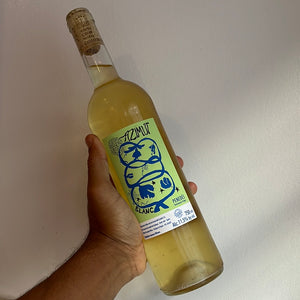 Producer: Azimut
Country: Spain
Region: Catalonia
Varietal: Macabeu, Xarel-lo, Grenache Noir, Malvasia
Vintage: 2019
Size: 750ml
Notes
Owned by the Suriol family, Cellers de Can Suriol del Castell is known for making wines and vintage Cava with personality in the organic winemaking tradition. They make wines under the Suriol brand which are all estate bottled fruit and then they make the Azimut line from purchased grapes from their neighbors, all of whom work organically. The Can Suriol vineyards and winery are situated in Alt Penedes, Province of Barcelona, Catalunya. This region is justifiably famous for producing fine wines and cava. The cultivation of the Can Suriol vineyards is done by 100% organic methods as certified by the CCPAE (until 2007 NOP certification). - Jenny & Francois

Wine Notes: Vineyard Details: This is a 5-hectare vineyard at 250 meters altitude that has a southern exposure with a slight slope, with Mediterranean breezes in the morning and afternoon.

Soil: Calcerous Clay.

Varieties: 40% Macabeu, 30% Xarel-lo 30% Garnatxa, 10% Malvasia.

Vinification Method: Vinified in 15,000-liter stainless steel tanks for 30 days with only indigenous yeasts. After which, wine goes into concrete tanks for 3 months for malolactic fermentation and battonage. The wine is unfined and goes through a soft paper filter to remove tartaric particles. It is lightly sulfured at bottling.