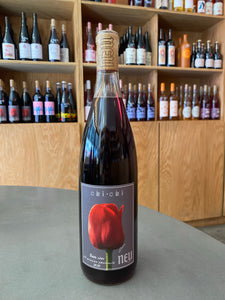 Producer: Neu Cellars
Category: Wine - Still - Red
Grape: Baco Noir
Geography: Michigan, United States
Appellation: Old Mission Peninsula
Alcohol by volume: 11.0%
About the Producer
A father-son project. Neu is German, meaning new, fresh, or young. The goal of Neu Cellars is to produce a focused and sound product that utilizes Midwestern fruit. During this project, we have fallen in love with Michigan grapes after not having any sort of expectations. The benefit of experimenting in an untapped region is the guarantee of surprise.

The unnamed vineyard is situated towards the top-center of Old Mission Peninsula with approximately 3 acres of vines. The narrow nature of the peninsula, which is 3 miles at its widest point, allows for the bodies of water on all three sides to control the climate. Due to the characteristics of the landscape, the chance of frost is reduced. Harsh winter temperatures are offset by the large amount of snow, which protect the vines. The vines are organically grown, although not certified. Everything is hand-picked and sorted on-site.

Cool nights during growing season, no humidity, and a healthy breeze from Lake Michigan allow for organic growing practices in Northern Michigan.