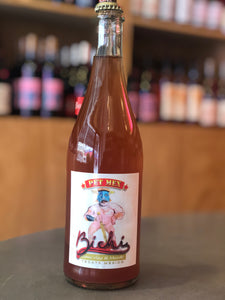 Distributor: José Pastor Selections
Producer: Bichi
Grapes: Dolcetto, Lambrusco, and Mission
Geography: Baja California, Mexico
Features: Organic, Biodynamic, Pétillant naturel
Pet Mex comes from a single, dry-farmed, and own-rooted 69-year-old vineyard comprised of a mysterious grape variety that remains unidentified. The vines are planted close to the Pacific Ocean at 1,066 ft above sea level on sandy loam and granite soils in the area of San Antonio de las Minas in Ensenada, Baja. The grapes are hand-harvested, de-stemmed, and pressed after a few hours on the skins. Fermentation is with wild yeasts, and the wine is bottled before fermentation is finished, where the wine went through secondary fermentation, a la metodo ancestral. The result is a fresh and vibrant sparkling rosado, a perfect vin de soif to knock down on a hot day. No filtration or added SO2.