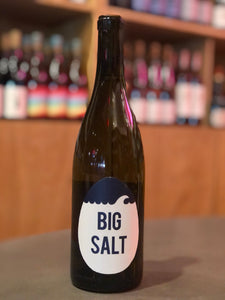 Producer: Ovum — Big Salt
Category: Wine - Still - White
Grapes: Riesling, Gewürztraminer, and Muscat
Geography: Oregon, United States
Big Salt is a white wine that embodies a day at the beach. It's bright, fresh, dry and a bit salty (although no salt is added of course!) - once it's done you're left wanting more. We achieve this experience by letting mother nature create complexity - that is to say we allow all of the grapes to ferment together, with native yeast..rather than making a blend in the laboratory. Finding the right vineyards throughout Oregon that share the same cool climate is what it's all about.