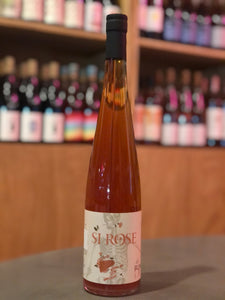 Producer: Domaine Binner
Category: Wine - Still - Orange
Grapes: Gewürztraminer and Pinot Gris
Geography: Alsace, France
Appellation: Alsace
About the Producer
The Binner estate was established in 1770 and the family has holdings in two of the most valuable growing sites in Alsace; around the Kaefferkopf Grand Cru and plots in Ammerschwihr. The Binner family owns nine hectares and only six of those hectares are under vine.
The vines average age is 35-years, 40% of the vines are over 60 years old, and many rows are nearing 100. Pinot Gris, Pinot Noir, Grand Cru Riesling, Gewurztraminer, Pinot Auxerrois and Muscat make up the varieties utilized by this estimable domaine.
The steep vineyard sites have been chemical free for nearly twenty-five years and they are surrounded by nature. The grapes are hand harvested very late for Alsace, early to mid-October, and yield fully ripened fruit that lends their wines a complexity of aromatics and flavors.