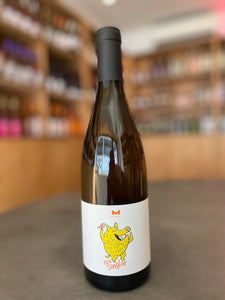 Producer: Domaine de la Mongestine
Category: Wine - Still - Orange
Grapes: Roussanne and Vermentino
Region: Provence, France
Appellation: Vin de France
Alcohol by volume: 10.1%
Features: Organic
Notes
Appearance: Golden yellow color, opaque, greenish-gold highlights.
Nose: Firm, type, acacia aromas, lemon aromas, pear aromas, aromas de fruits blancs.
Palare: Sweet tannin.

Domaine de la Mongestine is in Coteaux d"Aix en Provence in the gorgeous South of France. Their 31 hectares of vineyards are on clay and limestone soils, and at an elevation of 450 meters, are some of the highest in the region. The winemaking is as natural as possible for all of the cuvees, with natural yeast ferments in inert stainless tanks or amphora which allow for micro oxygenation without obscuring their terroir. No additives are used except for a kiss of sulfur at bottling. Mongestine pushes the boundaries of their wine region by producing limited and natural cuvees without manipulation. This is a refreshing contrast to the many commercial wines now produced in Provence.