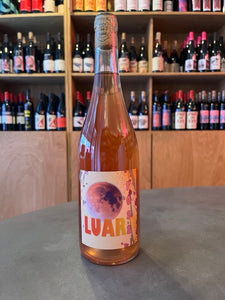 Producer: Bojo do Luar
Category: Wine - Still - Rosé
Grapes: Tinta Cão, Vinhão, and Loureiro
Region: Vinho Verde, Portugal
Appellation: Vinho Verde
Alcohol by volume: 12.0%
Features: Organic
Notes
50% Tinta Cão, 30% Vinhão, 10% Loureiro

The two red grapes (Tinta Cão & Vinhão) were sourced from a small producer practicing organic viticulture in the Vinho Verde Region, located in Marco de Canavese. Since Vinhão is highly pigmented, the maceration time was kept at a minimum. Spontaneous fermentation was done in concrete and stainless steel with chestnut flowers and combined with 10% Loureiro (same as Doralice) to add zest and other aromatic notes. Minimal SO2 added at bottling (30ppm).
ABOUT THE PRODUCER
The Bojo do Luar project came to life during a trip Savio made to the Vinho Verde region. Here he met Fernando Paiva, a biodynamic producer who has been experimenting with adding ground chestnut flowers to the grapes and must before fermentation began. Meanwhile he's halted using SO2 altogether since 2017.

Fernando is a regional reference for non-interventionist winemaking. He was the first Portuguese producer to acquire the DEMETER certification and through him Savio met another producer, Antonio Sousa, who practiced biodynamic viticulture, but still used traditional and conventional winemaking methods in the cellar.

Savio was undeterred and saw this as an opportunity: to use the traditional autochthonous varietals of Northern Portugal, and apply his knowledge and experience of many decades working with French producers, mainly in Burgundy and Loire. With Antonio's winemaking experience and openness to experiment using a non-intervention approach in the cellar, the Bojo do Luar wines started to take shape. The region has a mostly cool temperate climate throughout Spring, then very warm days, and cool nights until the harvest in September. Five red grape varietals and three whites were chosen for their natural high levels of tartaric acids and low PH.

The parcels are located near the Tâmega river, with deep granitic soils and south-south-western exposure, not too far from where it empties into the Douro River. Each grape varietal was vinified separately in stainless steel and concrete. As stabilizer, one kilo of ground chestnut leaves was added per each ton of grape, before fermentation starts. There was minimal intervention throughout the entire process in the cellar. Once the blend for each wine was defined, only 10g/l of SO2 was added at bottling.