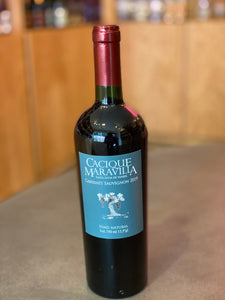 Region: Sur, Chile (Bio Bio Valley)
Appellation: D.O Secano Interior de Yumbel
Grape: Cabernet Sauvignon
This natural, organic and unfiltered wine is fermented spontaneously and the vinification is destemmed and ferment in open lagar of raulí (native chilean oak...pink Wood) only wild and spontaneous fermentation (native yeasts) in absolute contact with the environment.
👁 deep ruby red

👃🏾 red and black fruits

👅 very smooth, balanced; Raspberry velvet and cherry notes mingle beautifully with volcanic rock and spicy flavors
This is the perfect Cabernet to beat the summer heat with its tasty flavor and lower alcohol style. We met 7th generation grower Manuel Humberto Moraga Gutiérrez at a tasting in New York City, and fell in love with his energetic, happy personality, and all natural, dynamic wines. His vineyard Cacique Maravilla in located in Yumbel, in the Bio Bio Valley of Chile where he was born. Manuel has had a lifelong relationship with the land and the farm in this special region of Chile. The history of Cacique Maravilla goes back to the conquistadors. Yumbel was founded seven times during the land grab, and re-christened as Santa Lucia de Yumbel in 1766. The first vines were planted in Yumbel during this period. Francisco Gutierrez arrived in search of gold and began making wine. The times have changed but the wines haven't changed much. They are still made in the traditional, ancestral, natural way.