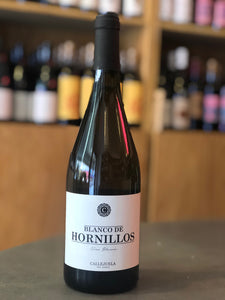 Organic
Star bright, warm, sunny, with golden apple notes that burst with salty textures reminiscent of the sea. Chamomile. Green Olive. The ripe Palomino has depth and the token Albariza pungency enhances the region's umami fame. Racy acidity, mushrooms and pears at the beach. The perfect seaside wine.
Production Details
Viña Callejuela has 28 hectares of family owned fruit planted within three vineyard sites of Macharnudo (4ha at 74m) and Añina (8ha at 83m) within Jerez, and Callejuela (16ha at 62m) in Sanlúcar de Barrameda which houses their two tiny bodegas less than two miles from the sea. It is there in the Callejuela vineyard where the two small bodegas on their property store their botas and age their wines.
Blanco de Hornillos is made from un-fortified Palomino must from all three
vineyard sites (Macharnudo, Añina, Sanlúcar de Barrameda). The harvest is done before those of the fortified wines and pressed more delicately that those that will be fortified. This blend is produced from the second grape selection from each pago and is co-fermented in stainless steel, and aged for an additional 5 months on lees.
5,000 bottles produced.