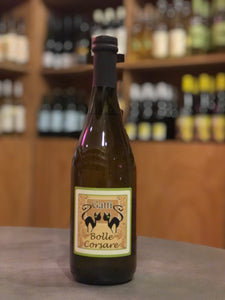 Producer: Carolina Gatti
Category: Wine - Sparkling - White
Grape: Glera
Region: Veneto, Italy
Appellation: Prosecco
Alcohol by volume: 11.5%
About the Producer
Carolina Gatti is a radical young winemaker who took over her family's 250-year-old estate in the Prosecco region of the Veneto, a few times (hello, Col Fondo Prosecco and that gorgeous, spicy Cab!). Her outfit is a rustic farm in the boondocks of Italy's Veneto region, where she works the land herself, with no chemical inputs, and makes the wines with very little intervention. She's pushing boundaries and making gutsy, unorthodox wines in a very conventional, by-the-books region. She also blogs about natural wine and sports a spiky platinum haircut that looks like a cross between a pixie and a mohawk. A shorter, punkier Debra Harry. In short, she's a rad chick. And we dig her wines. Like this unusual rosato, made from a local Veneto grape called Raboso, that drinks more like a baby red. There are some tannins, and a bright, tart cherry fruit that gives way to sweet strawberry finish. Red Twizzler, meets cranberry sauce, meets the first days of early Spring. Not a porch pounder, we like this one with food or after-dinner refreshment.