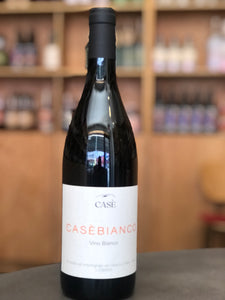 Region: Emilia Romagna, Italy
Grapes: Malvasia, Marsanne, Moscato Bianco, Ortrugo, Sauvignon Blanc
Type: Orange Wine
Average age of vines: 50
Soil type: Limestone
Fermented spontaneously using low-intervention
Sulphites: No added sulphites: <10 mg/L
Fining (clarification): Unfined
Filtering: Unfiltered
Suitable for Vegans and vegetarians
Alcohol: 11%
Residual sugar: <1 g/L
Vessel type: Stainless Steel

Notes
Casè Bianco is made from four different white grapevines growing in the same vineyard, intermixed with other red varieties. This arrangement was common in the past in our region, and the vineyard itself is quite old. We chose to stick to tradition even in the vinification process, using a moderate maceration on the skins that gives a surprising result of sweet, fruity perfumes associated with an unexpected dry taste.