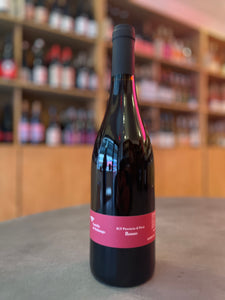 Producer: Castello di Stefanago
Category: Wine - Still - Red
Grapes: Uva Rara, Croatina, and Barbera
Region: Lombardy, Italy
Appellation: Provincia di Pavia
Notes
50% UVA RARA (1.55ha), 40% CROATINA (2.1ha), 10% BARBERA (1.8ha); All vines are planted on clay soils facing south-west. All grapes are hand-harvested: Uva Rara on Sept 30, Barbera on Oct 15, and Croatina on Oct 24, and all undergo vineyard sorting, de-stemming, spend 10 days on skins with spontaneous fermentation in stainless steel tanks for 20 days. Aged in steel tank for five months with no filtration.
ABOUT THE PRODUCER
The land and the people a double signature for these wines. We are in Lombardy, in the hills south of the River Po, between 320 and 470 meters above sea level, in the Company Organic Wine Castle Stefanago, here and Giacomo Antonio Baruffaldi grow grapes and produce their wines. Commitment, passion and constant search for innovation in the traditional elements that inspire their work.

At Castle Stefanago wine "is made in the vineyard" and all grapes are only grown on the farm. Riesling for the "San Rocco", one of the most representative wines of the company, from the Pinot Grigio "Camp Ground" and a second harvest of grapes ripening in the "Autumn Harvest", Müller Thurgau grapes for " Sparkling White "fermented in the bottle.

The Castle Tower Stefanago, with its thousand-year history, dominating the landscape, the view opens over the vineyards and hills of Oltrepo Pavese. A Stefanago the cellar becomes a convivial place to sample cold cuts, cheeses, pastries and enjoy together, to know, to understand the wines of this region are the most significant expression.