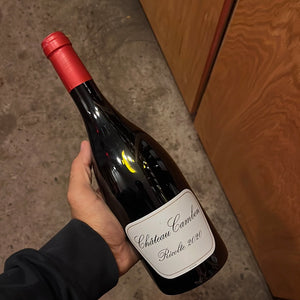 Producer: Château Cambon
Category: Wine - Still - Red
Grape: Gamay
Region: Burgundy, France
Subregion: Beaujolais
Notes
From Gamay grapes hand picked in October, the wine undergoes carbonic maceration with natural yeasts in enamel tanks, each parcel separate from the other. Some pumping over ensues to stimulate activity before the wine is moved to foudre to rest on lees.
ABOUT THE PRODUCER
Chateau Cambon is the joint venture to produce great, natural Beaujolais between the famed estates of Marcel Lapierre and Joseph Chamonard. In 1981, his path would be forever changed by Jules Chauvet, a man whom many now call his spiritual godfather. Chauvet was a winemaker, a researcher, a chemist, and a viticultural prophet. It was he who, upon the advent of chemical fertilizers and pesticides in the 1950s, first spoke out for "natural wine," harkening back to the traditional methods of the Beaujolais.

Joined by local vignerons Guy Breton, Jean-Paul Thévenet, Joseph Chamonard and Jean Foillard, Marcel spearheaded a group that soon took up the torch of this movement. This was the Gang of Five. They were rebels that called for a return to the old practices of viticulture and vinification: starting with old vines, never using synthetic herbicides or pesticides, harvesting late, rigorously sorting to remove all but the healthiest grapes, adding minimal doses of sulfur dioxide or none at all, and disdaining chaptalization.

Marcel was recently joined by his son Mathieu, and together they took the natural wine philosophy one step further, following organic and biodynamic vineyard practices. The end of the 2010 vintage was Marcel's last. He passed away at the end of the harvest— a poetic farewell for a man that forever changed our perception of Beaujolais. Mathieu, his son, Marie his wife and his two daughters, Camille & Anne continue the great work that Marcel began.

The Cambon wines are from a parcel planted in 1914 on a mixture of granite and chalkclay in St. Jean d'Ardieres (to the east of Brouilly next to Morgon) and this is an
exceedingly tasty, fresh and easy-going Gamay. Cambon is situated on the plain here and many of the parcels of the estate bump against these two crus, but none of them are inside the delimited AOCs, therefore only Beaujolais can be produced at this estate. The elevage for both wines takes place in 7,000 L foudres, natural yeast fermentations for both and everything else is done in cuve. No sulphur is added at bottling and 1,250 bottles are produced each vintage on average.

Mathieu Lapierre, Marie Lapierre, Geneviève Chanudet and Jean-Claude Chanudet
work closely together on these wines today.