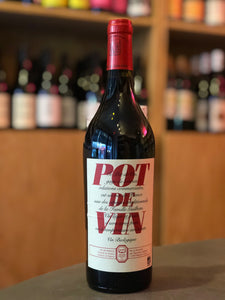 Producer: Château Guilhem
Category: Wine - Still - Red
Grape: Merlot
Region: Languedoc-Roussillon, France
Appellation: Pays d'Oc
Features: Organic, Biodynamic

Notes
In 2015, chateau owner Bertrand Gourdou was searching through an old desk when he came across a label that his grandfather had made in the early 1970's; that wine was called "Le pot-de-vin" which, in French, translates to "the bribe", which for that era was an audacious play on words for a wine label! This label inspired Bertrand to make a simple, natural wine: biodynamically grown fruit, fermented with native yeast and with a negligible dose of SO2, made in concrete tanks built by his grandfather. The word "pot" also references the old-style bottle shape.

The rouge is 100% Merlot from the IGP Pays d'Oc, made with no oak in a light-to-medium-bodied style with gloriously fruit, freshness and length. It is, simply put, the quintessential French bistro red.

ABOUT THE PRODUCER
Chateau Guilhem is located in the heart of the Malepère appellation. The 92 acres large estate is led by Bertrand Gourdou, an energetic young producer that can claim over 10 years of experience in wine making. He is the 6th generation producing wine on the property. Chateau Guilhem is today the leading estate in the Malepère appellation, an AOC his grandfather helped to create by being the first in 1970 to plant Bordeaux grapes in this typical Grenache, Mourvedre, Carignan and Syrah country.
Chateau Guilhem is an organic winery