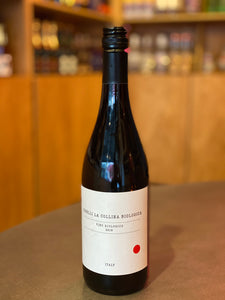 Region: Abruzzo, Italy
Grape: Montepulciano
A brilliant Montepulciano from Abruzzo. Made organically and outside the appellation rules of the Montepulciano d'Abruzzo DOC, Francesco Cirelli's wine is one of the most compelling Montepulciano's in the market. Aged in concrete, the wine has beautiful fresh black cherry fruit and a nice touch of mineral-driven earth. Bright and refreshing with a crisp finish, this wine is made for picnics and barbeques, or pizzas and burgers.
👁 Deep violet colour

👃🏾 dried strawberry, oak and cherry
👅 cherry and violet on the palate, with moderate tannin and medium body; complex and delicious
Organic producer near the commune of Atri in Abruzzo, makes some of the best value wines from Italy we have seen. It is mid weight yet full flavoured, oozes Italianate charm and drinkability, made using minimal intervention as well as minimal sulphur, and raised entirely in stainless steel.