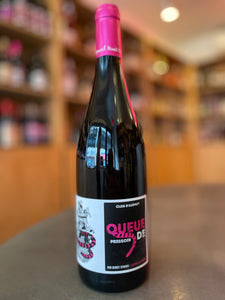 Producer: Clos d'Audhuy
Category: Wine - Still - Red
Grape: Ségalin, Malbec
Region: Languedoc-Roussillon, France
Appellation: Vin de France
Practices: Certified Organic, Low-Intervention/Natural Wine, Vegan
Notes
Certified Organic. Varieties: 70% Segalin + 30% Malbec. Vine age: 50 years – Limestone, very stony soil. A delightful weirdo, this wine showcases Segalin, an old forgotten variety indigenous from Cahors. Segalin is rustic, and also very tannic, so not a variety of choice for most producers. But Benoit decided to keep the variety and vinify the wine like a rosé, he harvested it early and it underwent a very light extraction. He also adds the "end of the press" from Polissons rosé (that's where the 30% Malbec comes from) in order to make an easy drinking, glouglou type of wine. 3500 btls produced.
ABOUT THE PRODUCER
Clos D'Audhuy is located in the west part of the AOC Cahors, in the village of Lacapelle-Cabanac. Today the estate counts 6 hectars under the direction of Benoit Aymard, third generation winemaker. Benoit only uses organic practices in the vineyard and has now started the process to get the certification.