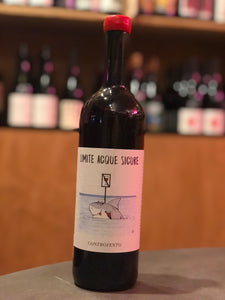 Producer: Controvento
Category: Wine - Still - Red
Grapes: Montepulciano, Passerina, and Trebbiano
Region: Abruzzo, Italy
Features: Organic, Biodynamic
Soil type: Clay, Sandstone
Fermented spontaneously using low-intervention
Sulphites: No added 
Fining (clarification): Unfined
Filtering: Unfiltered
Suitable for Vegans and vegetarians
Vessel type: Stainless Steel

About Controvento
My name is Enzo, I am the owner and winemaker of Controvento. Controvento is a small winery from Abruzzo. The company was founded by my father in 1978. I took control of the company 11 years ago and have been the sole propietor and winemaker ever since. The vineyard spans a total of 5 hectares and is situated inside the protected area of "Fosso delle Farfalle" in the town of Rocca San Giovanni, just off the Adriatic Sea in Abruzzo. The vineyard has 1 newer section totalling another hectare with vines planted 5 years ago. The vines of my farm are between 21 and 23 years old. Grape varietals are mostly Montepulciano d' Abruzzo and Trebbiano, but Fiano, Passerina, Malvasia and Cabernet all exsist in smaller quanitties. Controvento is certified organic, and 100% Natural. We use absolutely no chemicals on our vines and in our cellar no addition or manipulation of any kind is done during the vinification process. The wines never have any So2, are never clarified, never fined and are allowed to spontaneouly ferment.