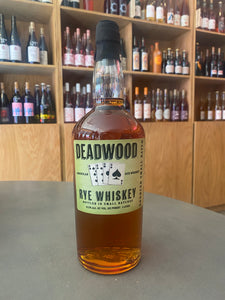 Producer: Deadwood
Category: Spirit - Whiskey - Rye
Raw material: Rye
Geography: Indiana, United States
Alcohol by volume: 41.5%
Staff Notes
Young bright rye whiskey, spicy pepper flavors and notes of dried herbs and cinnamon. Some nice sweetness as a counterpoint to the spice of the rye.
Deadwood Description
Deadwood American Rye is a new project from Dave Schmier, longtime spirits authority and co-founder of the Redemption line of bourbons and whiskies. Schmier entered the industry in 1991, beginning in restaurant serview before transitioning to spirits marketing. After nearly a decade as an industry consultant, Schmier formed Bardstown Barrel Selections in 2010 with Michael Kanbar, soon leading to the release of the Redemption line, and today's Deadwood Whiskies. Like Schmier's other projects, Deadwood Rye is distilled in small batches (of an average size of 20 barrels per batch) in Lawrenceburg, Indiana, before being bottled in Bardstown, Kentucky.

Deadwood is named for a town in the Black Hills of South Dakota. The 1874 discovery of gold led to a population boom and a thriving saloon business, which thrived based largely upon whiskey. Frontier legend Wild Bill Hickok was famously shot dead while playing poker in Deadwood. His four cards showing were two aces and two eights, forever after know as the Deadman's hand, so depicted on Deadwood's label.

This is a young, bright Rye that balances herbed spices with a touch of sweetness. It combines Ryes of two batches, one distilled in Indiana and one in Tennessee. The Indiana batch is 95% rye and 5% barley, whle the Tennessee batch is 70% rye and 30% corn. Schmier blends the batches to taste, generally to a mixture of 80% Indiana and 20% Tennessee. The resulting blends rest in 53 gallon, charred, new American oak barrels for over 2 years.