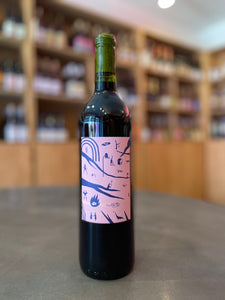 Producer: Dewey's Wines
Category: Wine - Still - Red
Grapes: Carignan and Syrah
Region: California, United States
Alcohol by volume: 13.0%
Features: Organic
Tasting Notes
This here is the Dewey's glou glou… Naturally fermented grape juice from two incredible vineyards. Chill it down and throw it back!

Steel Impulse, each year something new, always a fun blend, always light-hearted and enjoyable to drink. We don't think too hard about it and instead go on instinct. Or is it impulse?

The 2020 is made up of 75% rosé of carignan from Mendocino's Poor Ranch, colored up with a touch of syrah from Sumu Kaw Vineyard, located in the Sierra Foothills. Both vineyards are farmed organically. The carignan was destemmed, foot tread, pressed, and then left to ferment in neutral oak. The syrah portion was fermented 50% whole-cluster. Each lot spent a few months in barrel before being blended up in tank. We bottled 60 cases, unfined and unfiltered, in March of 2021.

Art by my brother, Riley Miller.