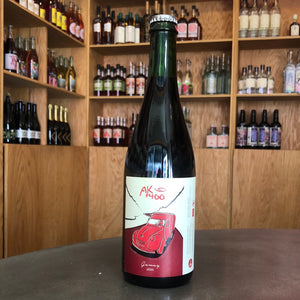 Producer: Domaine la Taupe
Category: Wine - Still - Red
Grape: Gamay
Region: France
Notes
The first sip is a mouth full of juice, red, fruity and ripe. This wine has a refreshing tint of acidity and a very nice touch of tension and volatility, every sip is an adventure. It is young and is very much still alive in the bottle, opening bottles on different days will end with different tasting experiences. During the vinification process, the grapes are partly destemmed and the wine is put into old oaken barrels.
ABOUT THE PRODUCER
Situated on the ancient riverbed of the Cher River between Thésée et Monthou in the Loire et Cher valley, we are dedicated to creating natural wines that bring out the terroir and the subtle notes of the Loire Valley. Bertjan Mol is our chief winemaker, he works together with his family and a team of dedicated wine-lovers help to make the best wine the Loire Valley can offer.

About Bertan Mol:

Bertjan, born and raised in the Netherlands, has been involved in natural wine ever since he took his first sip in 1999 during a trip to France. This inspired him to open Bruutwijn, one of the first companies to import natural wines to the Netherlands.

A few years later Bertjan decided to go all in and purchase a parcel of vines from Bruno Allion, a well known Biodynamic winemaker in the Loire Valley. This is where Domaine la Taupe began and has continued ever since. Passionate about his work, Bertjan is excited to share his wines and his savoir faire with the world.