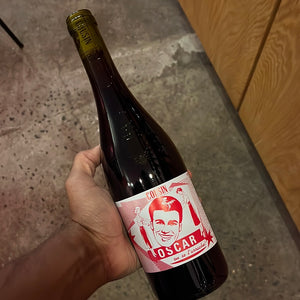 Producer Domaine Rimbert
Country France
Region Languedoc-Roussillon
Varietal Cinsault
Size 750ml
Notes
Cousin Oscar is a fun, summer, thirst-quenching red Jean-Marie made for fun. Its label is a combination of designs Jean-Marie put together from 50's magazines. He named the wine after his girlfriend's cousin (Oscar) who is apparently irresistable to the ladies.
Domaine Rimbert Description
Jean-Marie Rimbert, a native of Provence, arrived in the Languedoc nearly 25 years ago & managed the vineyards at Château de Flaugergues for 5 years until he saved up enough to purchase his first parcels of gnarled ancient Carignan vines that had been nurtured in schist-laden soils for the better part of the last century.

Today, Domaine Rimbert is 20 hectares spread amongst 40 diverse parcels each with different soil compositions & expositions. The village of Berlou (where Jean-Marie has his Chai) has the highest elevation in all of the St. Chinian AOC & is the only place in the region that possesses Schist rich soils. From the beginning, his objective was to cultivate vineyards with the utmost respect for the environment & his wines reflect all of the natural beauty, depth & flavor from those vines. The wines Jean-Marie crafts are