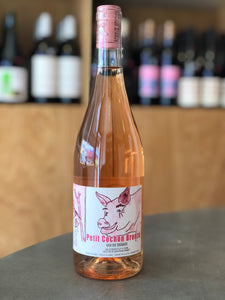 Producer: Domaine Rimbert
Grapes: Cinsault and Syrah
Geography: Languedoc-Roussillon, France
Appellation: Vin de Table
Wine Notes: ​ The "Tan Little Pig" is made from grapes harvested at their maximum ripeness and immediately destemmed. They are gently crushed and the juice is fermented with natural yeast. The skins are removed from the vats 36 hours after pressing, lending this rosé its beautifully intense pink color. The wine rests in stainless steel in a cellar that is half-buried into the earth so that the temperature of the winery is naturally regulated. It undergoes a light filtering when bottled on site.

Tasting Note: This rosé is vibrant pink in the glass. Deep scents of ultra-ripe crushed red cherries, a note of guava paste, overripe fig flesh and a pretty, yet smoky note of sweet herbs. Blood Orange infused red berry flavors dominate the palate and are set-off by the wines generous minerality.

Pairing: Serve this summer wine with a spicy couscous and lamb tagine, flame grilled chicken dishes, spicy lamb or beef kebabs, sweet barbecued pork dishes.
Domaine Rimbert Description
Jean-Marie Rimbert has nearly 50 acres spread amongst 40 diverse parcels each with different soil compositions and expositions. Berlou has the highest elevation in all of the St. Chinian AOC and is the only place in the region that possesses schist rich soils. From the beginning, his objective was to cultivate vineyards with the utmost respect for the environment and his wines reflect all of the natural beauty, depth and flavor originating from those vines. The wines Jean-Marie crafts are a passionate testament to this region's multi-dimensionality and ever-expanding potential.