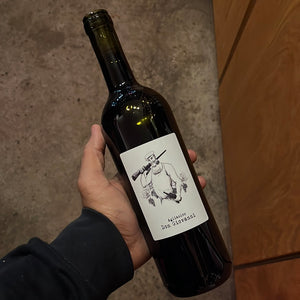 Region: Irpinia < Campania < Italy

Grape: Aglianico

Vineyard/Cellar Stats: Organic farming; clay and volcanic soils; ferments in stainless steel and aged 6-8 months in neutral Botti; bottled with unfined/unfiltered and no added SO2; zero-zero; 13% ABV

Winemaker: The De Lisio brothers

our young De Lisio brothers who learned the ropes from Giardino's Antonio De Gruttola. They grow only one grape, Aglianico, from which they make 3 different wines, for roughly 12,000 bottles TOTAL. It's a small family operation making simple, honest and extremely authentic wine, the kind we love to stumble upon.

Irpinia is a hilly part of Campania , and like most of this coastal region, it's a volcanic terroir that produces some pretty great wine, much of it from Aglianico, a rustic grape that can get super chewy and tannic with frequent pump-overs or too much oak. But the type that we want to drink, and that the locals actually do drink, are ones like our friend 'Don Giovanni' here, which trades the oak and excessive manhandling for gentle treatment in stainless steel and big, old wood casks, resulting in juice that fresh, pure and ready to drink now, with cherry, wild berry, warm spices and brilliant acidity. So perfect with all kinds of pasta (especially one with fresh ricotta or eggplant + mozzarella) and pizza. Give it a slight chill (30 minutes) before popping.