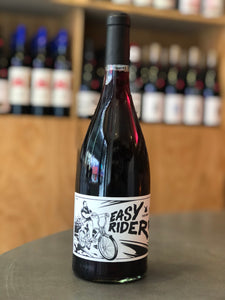 Producer: Château Vieux Moulin
Category: Wine - Still - Red
Grapes: Carignan and Cinsault
Geography: Languedoc-Roussillon, France
Appellation: Vin de France
Easy Rider is the unorthodox bird of paradise at Chateau Vieux Moulin. For example, the grapes are required to be picked by hand, an absolute minimum of sulfite is used and only natural yeast cells are used to ferment the wine spontaneously. And to keep the flavors in the wine as much as possible, the wine goes into the bottle unfiltered. You can say that the grapes Carignan and Cinsault are pure nature. The result is a light red wine with a surprisingly soft and full flavor where the black fruit predominates.