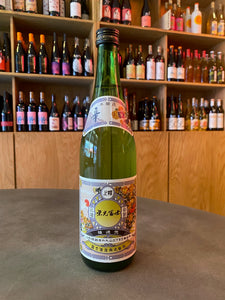 Supplier: Kobrand Corp
Producer: Eiko Fuji
Category: Sake - Honjozo
Raw material: Hainuki Rice
Region: Tohoku, Japan
Subregion: Yamagata
Notes
Honkara is an abbreviation for "Honjozo Karakuchi", which is a classic type of sake. Honjozo's are rich and robust. "Karakuchi" means it is dry. This Honkara is a wonderful representation of the style. It has a light and silky mouthfeel, some marshmallow sweetness, and a crisp dry finish. It can be enjoyed chilled, at room temperature or gently warmed.

TASTING NOTE
Low aroma, slight marshmallow on the palate. Finishes dry, and clean.

FOOD PAIRING
Serve chillled. Great with yakitori, Korean barbeque, or other grilled meats.

ABOUT THE PRODUCER
Eiko Fuji sake is made in the Fuji Brewery, founded in 1778 by the Kato Family. The company is currently managed by the 13th generation, Ariyoshi Kato. Though the brewery building is 100 years old, the brewery itself has been at the same location since its foundation. The Kato Family can trace their lineage to the famous 14th century daimyo Kiyomasa Kato, who was critical to several historical battles of his time. His family emblem of a snake's eye decorates the brewery's main door and part of the handle of his armor is still kept as an important family treasure.