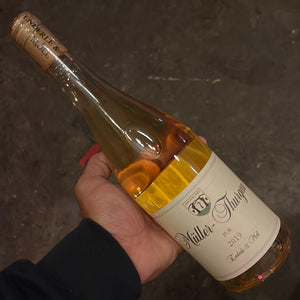 Producer: Enderle & Moll
Category: Wine - Still - White
Grape: Müller-Thurgau
Region: Baden, Germany
Appellation: Baden
Features: Organic, Biodynamic, No sulfites added, Orange wine, Vegan
ABOUT THE PRODUCER
Enderle & Moll is really just two guys, a tiny cellar, a few hectares of old vines, and a hell of a lot of buzz – even Jancis Robinson has called them "cult". Sven Enderle and Florian Moll farm a total of 2.1ha on the western fringe of the Black Forest. Most of their Pinot comes from two sites: one with 25-45 year-old vines planted in colored sandstone (Buntsandstein), and one other miniscule plot (0.045ha total) from four tiny terraces, home to 60 year-old vines (the oldest in the region) planted in shell limestone (Muschelkalk). All work in the vineyard is done by hand, yields are low, and vineyard work is organic/biodynamic. Walking through the vineyard, it is easy to see where the Enderle & Moll plots begin and end, so clear is the vitality of their vines and soil. Sven and Florian are hands-off in the cellar and it shows in the wines. Parcels are vinified separately, with one-third whole clusters. Grapes are crushed in an old wooden basket press and then go into secondhand Burgundian barrels (mostly from Domaine Dujac). Bottling, like everything else, is done by hand, and there is no fining or filtration. Because they don't care for the quality criteria for Pinots in Baden, they've decided to declassify their Pinot Noir as a Tafelwein, which legally disallows them from putting vineyard names on the label. Florian thinks it foolish to automatically equate higher ripeness levels with better quality and that doing so often leads to overripe, high-alcohol wines with lots of extract and a shortage of acidity and delicacy. These are delicious Pinots (to say nothing of their Müller-Thurgau, which is likely the best version of that grape you will ever taste) of enormous integrity, made with undeniable passion and point of view. Also, Sven Enderle has the best facial hair in the wine business with the possible exception of Jo Landron. Silly-limited production.