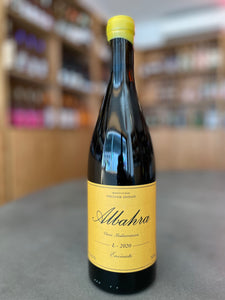 Producer: Envínate
Category: Wine - Still - Red
Grape: Garnacha Tintorera
Region: Castilla-La Mancha, Spain
Wine Notes
Nose displays ripe red fruit, floral notes, and minerality. On the palate there is bright acidity, good structure, body and power. Finishes long and is highly enjoyable.
Producer Notes
Envínate (meaning 'wine yourself') is the brainchild of four friends who met while studying enology at the University of Miguel Hernández in Alicante. Their work is currently focused in exploring the ancient, Atlantic-infused terroirs of Extremadura, Ribeira Sacra, and the Canary Islands. Their philosophy is simple; let each 'parcela' or single parcel, fully express itself by utilizing old-fashioned farming and wine-making methods. To this end, no chemicals are used in any of the Envínate vineyards, all parcels are picked by hand, the grapes are foot-trodden, and the wines are fermented exclusively with wild yeasts, with a varying proportion of whole clusters included. Typically alcohol levels are kept at 13 degrees or below. For aging, the wines are raised in old barrels with sulfur added only at bottling. The results are some of the most distinctive and exciting wines being produced in Spain today.