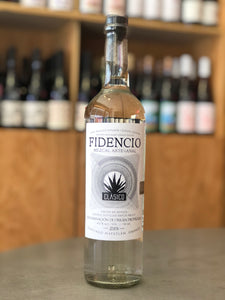 The agave for the Clasico are roasted in the traditional method. The oven is stone lined earthen pit. A fire of Encino, the local black oak, is lit in the pit, which heats up the stones. When the fire goes out and the stones are hot the agave is piled in the pit and buried. Distilled twice in a traditional, wood fired, simple Alembic.
ABOUT THE PRODUCER
Fidencio Mezcal embodies the tradition and creativity of Oaxaca. With four generations of knowledge and the finest estate grown agave, Fidencio is a unique mezcal that is pure agave. Using 100% Espadín agave let to mature at least 10 years.
Our first release, Fidencio Sin Humo is a small batch, artisanal mezcal that is roasted with out wood. The flavor is a balance of fruit, agave and spice. The feeling is smooth and clean. In 2011 we release two more mezcals, Clásico and Pechuga. Clásico is a traditional, Oaxacan mezcal roasted in a wood-fired earthen oven. The flavor is a complex balance of fruit, spice and smoke. Pechuga is a seasonal, celebration mezcal that is produced in tiny batches. We use our Clásico as the base and distill it a third with our mixture of fruit. Suspended inside the cap of the still is a chicken breast, which rounds out the flavors. The result is a delightful combination of tropical fruits and subtle smokiness.