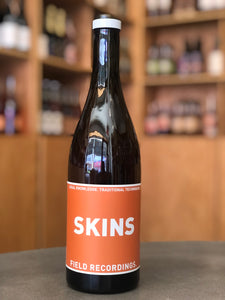 Producer: Field Recordings
Category: Wine - Still - Orange
Grapes: Chenin Blanc, Riesling, and Pinot Gris
Region: California, United States
Subregion: Central Coast
Appellation: Central Coast
Features: Sustainable, Orange wine, Vegan
Notes
I've been making orange wine since 2011. Why? Orange wines have the flavors of white wine and the body and texture of a red wine. It creates a white wine with more substance and aromatics, the ultimate food pairing wine. The wine opens up as it sits on your counter and after glass after glass is poured.

This 2020 vintage is our latest rendition of our "orange wine for the people". We increased the volume of Pinot Gris in this vintage and added some Albarino to the blend to help develop the aromatic complexities. The varieties get 4-8 weeks on skins extracting the orange color. The finish is long and extended because of the time on the skins. Pair with spicy food, chicken & seafood.
ABOUT THE PRODUCER
Winemaker Andrew Jones has a keen eye for diamonds in the rough: sites that are unknown or under-appreciated but hold enormous untapped potential. He strives for unique wines loaded with personality and a one-of-a-kind experience.