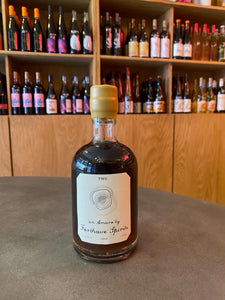 Producer: Forthave Spirits
Category: Spirit - Liqueur - Botanical
Region: New York, United States
Notes
Two is an amaro, it is the second in our Single Batch line of one-off botanical spirits. The Single Batch line allows us to discover and experiment with new botanicals. It also provides the freedom to play with new flavors and aromas; different types of herbal extractions, distillations, macerations, aging techniques and more.
'TWO' is the second of the one-off, Single Batch spirits from Forthave Spirits. The Single Batch line allows Forthave to discover and experiment with new botanicals. It provides the distillery the freedom to discover new flavors and aromas, play with different types of herbal extractions, distillations, macerations, aging techniques, and more. In fact, Forthave Spirits first started as two friends trying out home batches of botanical spirits and tracing them back to their herbal, medicinal roots. With the Single Batch line, they revisit the spontaneity and inspiration of their first experiments. Each release in this line is a one off, never to to be repeated or recreated. Four years in the making, once it's gone, it's gone!

The genesis for 'TWO' was in the summer of 2017, when Aaron and Daniel visited a restaurant in upstate NY which foraged many of their ingredients from the rugged lands of the Catskill Mountains. As a gift, the chef presented them with some freshly foraged chaga.

Chaga (Inonotus obliquus) is a mycelium that is commonly found growing on birch trees in cold climates in the northern hemisphere. Rich in minerals and nutrients, chaga has been used in herbal medicine for various ailments for centuries. Its compact size allowed for the portability in ancient times and has traditionally been consumed as a tea.

Once back at the distillery in Brooklyn, Aaron and Daniel began experimenting with various infusions, blends, and extractions. Each had a distinct character but one in particular stood out above the others. When tasted, they were delighted to find an inspiring depth and complexity, and the perfect structure upon which to build their second Single Batch release as an amaro.
Along with chaga, 'TWO' is made with over 40 additional botanicals. Aaron and Daniel were inspired to use ingredients derived from trees and filled their still with tree barks, berries, and fruits and produced an aromatic distillation. The distillate was then infused with the chaga before resting. Herbs including, birch bark, kola nuts, juniper, cinchona bark, cinnamon barks, and various citrus fruits were added to the distillate. From start to finish, it took over four years from the first infusions to the final bottling. During that time, 'TWO' was aged in glass demijohns, used bourbon barrels, and stainless steel tanks.

With notes of earthiness and spice, 'TWO' has a long finish of lingering citrus. It can be enjoyed neat after a good meal, or mixed into cocktails. Forthave Spirits strives to make plant-based spirits as delicious as they are unique.