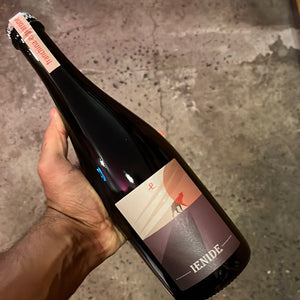 PRODUCER: Franchina and Giarone
VILLAGE: Italy
REGION: Emilia Romagna
ALCOHOL: 12%
GRAPE VARIETY: Lambrusco Grasparossa from Castelvetro
VINIFICATION: Aging in fiberglass, spontaneous fermentation, refermented in the bottle with the addition of frozen must from the same vintage
CLASSIFICATION: Biodynamic, Organic, Natural
Notes
An ultra traditional grape variety from the Emilia-Romagna region, a place where it is commonly drunk with various cold cuts or grilled meats. Ienide is bold, with flavors of wild berries, supported by a moderately high and enveloping tannin and a balanced creaminess deriving from its natural sparkling wine and is excellent to combine with sausages, fennel, lasagna or even grilled ribs. Absolutely to discover.