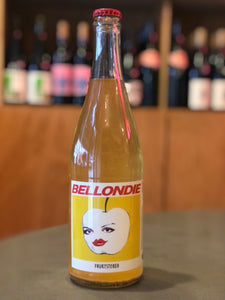 Producer: Fruktstereo
Category: Cider - Cider
Geography: Sweden
Frukstereo is a collaboration between Karl Sjöström & Mikael Nypelius, who both worked as sommeliers in fine dining in Sweden. The fruit they work with comes either from home gardens or abandoned orchards, or is from waste fruit from local farmers. Everything they make is fermented with natural yeast with zero additives. 
The producers call these 'fruit Pet Nats' since they're made from 100% fruit and often include other things besides just apples/pears -- like grapes, berries, beet root, and plums, etc. All the fruit is foraged.