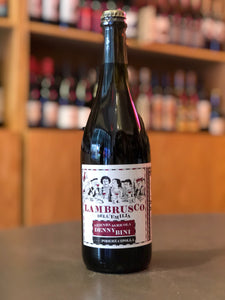 Producer: Fuso — Denny Bini (Podere Cipolla)
Category: Wine - Sparkling - Red
Grapes: Lambrusco Marani, Lambrusco Salamino, Lambrusco Maestri, Lambrusco Grasparossa, and Ancellotta
Region: Emilia-Romagna, Italy
Appellation: Lambrusco dell'Emilia
Alcohol by volume: 11.0%
Features: Organic

Tasting Notes
Organic Lambrusco Marani 30%, Lambrusco Salamino 30%, Lambrusco Maestri 20%, Lambrusco Grasparossa 10%, Ancellotta 10%.
Winemaker Denny Bini took the skills he developed when he was running the show at Venturini-Baldini and has channeled them into his own project.  He is now making his own wine, with fruit from his own vineyards and those of family and friends.  All of the fruit is organically grown.  
Staff Note: it's delicious, a touch bitter, and goes down easy
👁 dark ruby
👃🏾blackberry, cassis, earth
👅 dry, fruity but not sweet



About the Producer
In case you hadn't noticed, Emilia, the land of Lambrusco, has a revolution brewing (or fermenting, often in bottle). After too many years of industrially-produced mediocrity, Emilia is now home to a small but growing cell of artisanal producers who are farming carefully and returning to the metodo ancestrale of their grandfathers: secondary fermentation in the bottle, without disgorgement. Denny Bini is one of the humble heroes of this renaissance-revolution. He makes 6000 bottles per year from a single hectare of organically-farmed vineyards. Ponente 270 is the sparkling red and is mostly Grasparossa. Rosa dei Venti is the sparkling rosato (Grasparossa and Malbo Gentile). Levante 90 is the sparkling white wine, made from Malvasia. All three are bottle-fermented. Denny also makes our FUSO21 Lambrusco dell'Emilia (a.k.a. the Festa! Label) from practicing organic vineyards from family and friends.