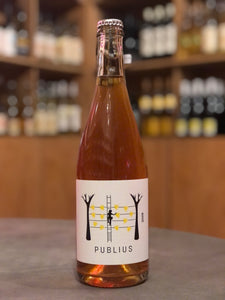 Producer: Gaia Felix
Category: Wine - Sparkling - White
Grape: Greco
Region: Campania, Italy
Appellation: Terre del Volturno
Notes: Biodynamic farming. Alberate system training the vine sup and around trees!
Tasting Notes
Gaia Felix Asprinio Publius is a sparkling natural wine made from grapes grown on volcanic soils, near Caserta, Campania, Southern Italy. Asprinio is a Campania native grape varietal trellised on trees. This is a frizzante wine, some additional must is used to trigger the second fermentation.