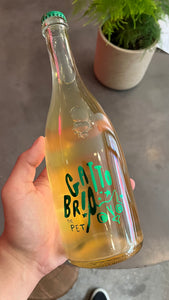 Winemaker: Andrea Lonardi
Producer: Fazi Battaglia
Country: Italy
Region: Marche
Type: Sparkling, White
Variety: Verdicchio
Farming: Organic, Sustainable
Production: 6000 bottles
Soil: Calcareous Clay
Vegan
Notes
30 ha of north-eastern exposed vines at around 300m altitude. Hand harvested. Gentle pressing of whole bunches. Primary fermentation in tank until about 9.5% ABV. Bottled with crown cap and stored at about 18 degrees Celsius. Released about 9 months following the harvest.
Producer
Fazi Battaglia is an icon of Italian wine since 1949. Owned and operated by the Angelini family, it is symbol of both the Marche region and the Verdicchio grape variety. The Angelini empire consists of top estates in Italy's esteemed regions. The aim of its wineries is respect for the environment and to promote the local 'identity' as authentically as possible. Production methods are rooted in transparency and precision. Andrea Lonardi is a legend in his own right, with deep experience producing wine around the world. He is the COO of Bretani Domains, and a force to reckoned with. The foundation for this collaboration is 30 hectares of thoughtfully, responsibly farmed vines in the heart of the region. Coupled with Andrea Lonardi's pedigree, these wines represent the pinnacle of Verdicchio, produced in a creative range of styles.